Maintaining a strong digital presence is an absolute must for any business in the 21st century. The internet is where the magic happens, after all, and if you're not yet well versed in the fine art of digital marketing, then you're sure to be left behind by the competition sooner rather than later.
Newcomers to the wonderful world of search engine optimisation (or SEO, as it's more commonly referred to) are often put off from giving it a go because it looks – and sounds – really rather complicated. 
But the good news is that it doesn't have to be that way… and we here at UK SEO agency Ad Rank One are here to lend a helping hand!
Familiarising yourself with the various words and concepts to do with SEO can work wonders where your confidence is concerned and, before you know it, you'll feel far less overwhelmed by it all and in a far better, more informed place to consider it as an option for your business.
So, with that in mind, here's a very helpful A to Z of all the most important terms and ideas that you'll likely come across as you get to grips with SEO. And, of course, if there's anything else you need help with or if you need anything explaining in greater detail, you can always give the team here a call and we can talk you through it all.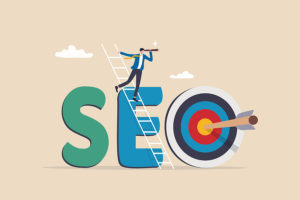 The Ad Rank One A To Z!
A is for…
Algorithm! These are complicated computer programs that search engines use to collate data from across the internet to provide search results for queries of all kinds. A combination of different algorithms is used to provide search users with websites ranked in order on a results page based on a vast array of different ranking factors.
Something else to familiarise yourself with is the idea of algorithm updates. The likes of Google et al often make changes to their algorithms to improve the overall search experience and, while this is great for customers, it can make life difficult for businesses and you will likely need to make tweaks to your SEO strategy to make sure your rankings don't slip.
B is for…
Backlink! These often confuse people but the concept is actually a very simple one to grasp… backlinks are just hyperlinked bits of text on your website that point to another external site. You may also hear them referred to as inbound or external links, but they all mean the same thing.
Search engines love these handy little links because they serve as votes of confidence, so the more sites you have pointing back to your site the better – as long as the links pointing backwards come from reputable, authoritative and relevant places. 
While it's true that pages with lots of backlinks will do well in search, you can actually hurt your SEO strategy if you don't factor in quality as well as quantity. 
Remember that relevancy is becoming increasingly important for search and this is something you should consider across all areas of your site, including your backlink origins.
C is for…
Content! One of the most important aspects of any successful SEO campaign is to make sure you have nothing but well-written, relevant and useful content across your entire site. 
If you feel as though your rankings are stagnating a little, perhaps take a look at the pages on your site and see if they're light on content, if the writing could be jazzed up or if you could provide something of serious value to your readers.
Your rankings would also be particularly well served if you start uploading regular blog posts to the site. This is a really effective way to both engage with your site visitors and give them all the info they need (plus lots more besides!), while improving your search results. 
If you need any further advice on this front, give us a shout as we do lots of blogging for our clients and have covered practically every subject under the sun!
D is for…
Domain authority! This is slightly contentious as a topic in the SEO world and it will depend on who you talk to as to how much weight is put behind domain authority in terms of rankings. Moz came up with the domain authority score, which is used to predict how likely it is that a site will rank in search results, with websites given a score of between one and 100.
What is important to remember, however, is that search engines do not take domain authority into account as a ranking factor, so don't worry if your score is low right now as it won't have an impact on your search results.
However, you can improve your domain authority by focusing on your backlinking strategy and increasing the number of relevant links from reputable sites that are pointing back to you. You can also keep an eye on your score to track the ranking strength of your site or to compare how you're doing in relation to your competitors.
E is for…
Engagement metrics! Search engines are increasingly putting the user experience at the heart of everything they do, so now's the perfect time to look at how you can improve visitor engagement when they land on your site, keeping people there for longer.
Metrics to look at include your clickthrough and conversion rates, as well as you bounce rate, dwell time, the amount of time on pages and on the site as a whole and both new and returning site visitors.
F is for…
Fresh content! We've already mentioned the importance of content for your rankings, so now we can delve a little deeper and look at why freshness of content can make a difference to website performance.
Basically, Google's main ambition is to provide people with the very best search results out there. This means that it wants the content it displays in search results to be as fresh and as up to date as possible… which is why its algorithm has been updated to ensure that sites with fresh content are preferentially indexed.
Running a blog is one of the best ways to keep the site fresh, but also don't neglect the rest of your site. Changing up the content on your web pages can help signal to Google that you're serious about search and that you're moving with the times, keeping up with your industry and giving your customers what they want when they want it.
G is for…
Google Ads! There are two different aspects to an SEO strategy: organic search and paid-for Google Ads. These both work really well either on their own or as a complementary approach. 
Organic SEO can take months to yield positive results, so you can use paid-for ads as a stopgap to ensure you're seen by prospective customers while you wait until you get those much-coveted page one results.
H is for…
Heading tags! Also known as H tags or header tags, your heading tags are HTML elements you can use to help you organise your website, separating your content into different sections, which can come in very handy indeed if you have lots of copy on a single page.
Remember that people skim read online and it's harder for them to read big blocks of content over a screen, so you can make it easier for them (and improve your user experience!) by splitting the text up into blocks… which is where your header tags really come in useful.
However, they also serve a solid SEO function as well, helping to signal to Google's crawling search spiders exactly what each page on your site is about. There are various rules you need to adhere to when using your H tags – but the Ad Rank One team can certainly help you in this regard!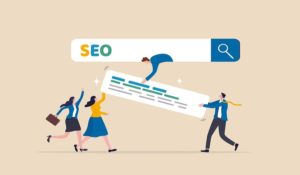 I is for…
Internal links! Internal linking is one of the true constants of SEO and it can have a big impact on your rankings, so would be a great place to begin if you're looking to make inroads in this regard. We recently put together a useful blog post to help our clients understand internal linking and how to go about doing it – so make sure you check it out!
And that right there is an example of internal linking. You can use these links to make your site easier to navigate and help keep people on your site for longer, something that can make a big difference to your conversions over time. The added benefit is that you'll also set your site up in an SEO-friendly way, making it easier for Google to index it.
J is for…
JavaScript! This might sound a little alien to many of you out there but, like much of the programming world, it's really quite simple. JavaScript is just a scripting or programming language that allows you to include complicated features on your site, everything from updates in real time to interactive maps, video scrolling capabilities, animated graphics and so on.
An interactive site is great for user engagement and the more you can offer your customers in this regard, the better. If you do decide to use a JavaScript framework to build your site, it's important to make sure that search engines are still able to crawl and index your site… but, again, this is something we can certainly help you with if you do want heavy interactivity!
K is for…
Keywords! You'll hear us talk a lot about keywords when you first start a campaign with us and these are what we target to help you climb the rankings, based on what your target market is searching for online. 
We do a huge amount of research when we take on new clients so we can find the most lucrative search terms for them and their business, ensuring that not only do you climb the rankings but that you increase your conversions as well.
L is for…
Link building! Link building is a very important part of any SEO strategy, but particularly so if you're in an especially competitive industry or sector. 
Simply put, it's just the process of acquiring hyperlinks from other sites to your own and you can help facilitate this by making sure your website is link-worthy, so that you encourage natural link acquisition. 
This is quite tricky, however, and is where your site content really comes into its own – but you should also make sure that your choice of SEO company knows what they're doing and is striving to build links deliberately as well.
M is for…
Metadata! You'll also hear a lot about metadata and meta tags and descriptions when you're embarking on an SEO campaign. This is carefully crafted information that tells search engines and web crawlers what they  need to know about web pages, all contained within the HTML of any given document… so you don't actually see it on the page itself.
N is for…
Negative SEO! Business can be cutthroat whether you're online or off, but in the wonderful world of search there's something you need to be aware of and that's negative SEO. This is where your competitors will do all they can to help tank your rankings so they can overtake you in the results pages.
There are lots of ways this can be achieved, everything from hacking the site and creating toxic backlinks to scraping content and making duplicates of the site… but we can help you keep on top of this so you don't have to worry.
O is for…
Organic search! When it comes to ranking, organic search results are the ones you really want to focus on. Users consider these to be the most trustworthy and relevant results that appear when they submit their queries, more so than the paid-for ads that appear at the top of the page. 
As such, you want to make sure you're on the first page and within the first five results – but getting there can be difficult and time-consuming, so make sure that you're prepared for it to potentially take months in order for you to see the results you're looking for.
P is for…
Pay per click! You're sure to come across the term 'pay per click' (or PPC) when you start an SEO campaign and it's important that you know what it means so you can decide if it's right for you.
Simply put, it's just a form of advertising where you're charged a specific amount each time someone clicks on your ad. The amount you're charged is based on relevance, competition, bid and other such factors – and it can be very useful to use PPC alongside your SEO strategy to help you drive clicks and conversions your way.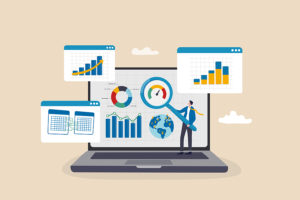 Q is for…
Quality score! Paying attention to your quality score is a good idea if you do make use of Google Ads at any point, because this will tell you how strong your ad is in comparison to your competitors. 
The score is measured on a scale of one to ten and the higher it is, the more relevant and useful your ad and landing page is to your target market (in relation to other advertisers).
R is for…
Responsivity! Responsive design is becoming increasingly important for search results so certainly something to take seriously if you haven't already made inroads in this regard.
When your site is responsive, it means that you've made the necessary changes to ensure that it works well when used across a range of different devices and different screen sizes. 
From a business perspective, this is a wise move because people are increasingly using their mobiles to access the internet above other options like desktop PCs and laptops, so it's vital that they can use your website easily, or they'll leave and go elsewhere very quickly indeed.
For SEO, it's important as well since Google prioritises mobile-friendly sites in search – so it's definitely a good idea to look into it if you want to improve your rankings.
S is for…
Social media! Social media marketing is separate to SEO but the two strategies can complement each other very well indeed, so if you are embarking on a new search campaign you might want to make sure that you incorporate some kind of social element in there, as well.
Although your social activity won't have a direct influence on your ranking results, it can extend your brand reach and breathe new life into website posts, while driving brand recognition, helping with local search and encouraging people to visit your website – which can definitely help increase your conversion rate.
T is for…
Time on page! Also known as dwell time, time on page is simply the amount of time your site visitors will spend on the page they've arrived at from the search engine results page. 
It measures how long someone stays on the page from the moment they click through to the moment they navigate away – and the longer people stay on the page and on your site, the better it is for your business.
It's not entirely clear as to whether or not dwell time has a direct impact on your rankings, but if you have consistently lower time on page, it could be worth looking into as there may be another reason that's leading people to bounce away.
U is for…
Usability! It's all about the user experience for Google et al these days and this means you've got to put usability of your website at the very heart of all you do if you do want to reach the very top of the search results page.
The possibilities are endless where this is concerned and a good first step to take is to carry out a website audit so you can see where you need to focus your attention first. Give us a call today if you need a bit of help getting started!
V is for…
Voice search! The convenience of spoken queries for finding what you want online is fast becoming very popular indeed and it's important that you make sure your site is optimised for voice search so you pop up in the results pages.
There are lots of ways in which this can be achieved, everything from targeting question keywords and using more conversational language in content to focusing on local SEO.
W is for…
WordPress! One of the most popular content management systems for websites is WordPress. It's very user friendly, even if you've never spent much time in the backend of a site before, and you'll get to grips with it before you know it. 
It integrates really well with Google search and there are lots of different plugins you can use that will help you design a really successful and professional website.
X is for…
XML sitemap! Your XML sitemap is a file that lists all the essential pages on your site to help ensure that search engines can find and index them. The sitemap also helps search engines understand the structure of your site, telling them what content is available online and where it can be found.
Search engines can still find your pages without you submitting your sitemap, doing so will indicate to the likes of Google what you consider your most important pages are. It can also increase your chances of being indexed more quickly, so it's certainly worth doing.
Y is for…
Yoast! WordPress users are sure to be familiar with the Yoast SEO plugin, which offers users lots of different tools and features to give your SEO a boost. It helps direct you for post and page creation, even if you don't quite know what you're doing with search – so it's a great choice for businesses who want to make sure they're ticking a few SEO boxes.
Z is for…
Zero-click searches! Have you ever submitted a search query, looked at the results page and seen all the info you need at the top of the page in a little snippet? Well, that's a zero-click search, where you get the answer you want without having to navigate away from the results page… hence zero clicks!
From Google's perspective, this is great because it speeds up the process for searchers and improves the overall user experience. For businesses, however? The benefits are a little less clear – so you may want to focus your efforts on getting yourself appearing in featured snippets.